How Home Improvement Projects Could Turn Into Disasters
Home improvement projects can be very exciting! After all, what can be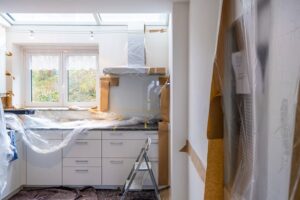 better than improving the place you call home? However, most people jump into home improvement projects at the arrival of slight inconvenience at their home and don't plan thoroughly. The unfinished plans reflect both during and after the renovations and cause disasters at various stages too.
If you're planning a home improvement project and don't want it to turn into a disaster, here's what you need to be careful of:
Losing Precious Items
Home improvement costs a lot of time and money. However, if you don't plan, you can end up losing money in more ways than one. If you have precious art or expensive state-of-the-art pieces in the room you wish to renovate, you should first consider removing and storing them in a safe space.
When renovation begins, there will be a lot of dust, grime, and other chemicals. Moreover, huge pieces might come in and out of the space, blocking the view of the one carrying them. In all this chaos, your precious items may easily get damaged.
Smaller precious items can also go missing. Since it's your home, you have to be responsible for everything yourself. You may count on the security cameras at your home, but catching someone taking your stuff is not an ideal scenario.
You may retrieve the precious item, but it will cost you a lot more time and money. The whole home improvement project might be put on a halt, and you will have to pay a greater cost to finish the job.
Not Researching Enough
It is important to research the available market before embarking on any home renovation project. Firstly, it prepares you for the cost the project would require. Knowing the cost of various things will also enhance your knowledge of the quality of various items. It will allow you to budget and plan according to the quality of products you want at your home or the budget you want to fit.
Secondly, it will enlighten you about the current and upcoming trends. Nobody wants to spend a significant amount on their home for it to look outdated in only a couple of years. Hence, researching the market thoroughly will allow you to make informed and better decisions that will benefit you in the long run.
Preferring Décor over Use
While it's important to know about the décor trends to get the most of your money's worth, it is impractical to dictate the home improvement project around design alone. You may have decided to undertake the home renovation for the sake of design alone, but when you're at it, you need to think about how it's going to add comfort and value to your life.
Your new couch may look the best; you will never sit on it if it's uncomfortable. Similarly, it would be best if you thought about what your home needs to be better. Don't cut the budget on practical elements that will improve your quality of life to spend on aesthetic things. The new paint and ceramic wall hangings can wait; new insulation between walls and tile work cannot.
Not Creating Backup Plans
You may create thorough plans, but you also need thorough backup plans. However, you not only need thorough backup plans on design and color decisions. It would help if you also made practical backup plans for the space in your home that's going under renovation.
If your home improvement project includes more than one room, you will have to limit your usage of space for the entirety of the time the project takes place. If the project is more home restoration than renovation and involves important spaces such as kitchen and bathroom, you might need to move out to a nearby motel for a few days.
You may also need pre-approved leave from work. If you live somewhere where the weather gets harsh, you will need to ensure that the days when your home renovation takes place will be pleasant. If you cannot rely on the weather completely, create backup deadlines accordingly.
Starting from a Wrong Point
This is another common mistake that many people make. Imagine painting the kitchen cabinets from the outside only to figure out irreparable water damage on the inside of cabinets.
You don't want to redo steps, nor do you want to waste money that can be saved. Therefore, before you begin renovating your home, you need to figure out everything that needs to be renovated, fixed, replaced, or improved. Look over every inch of the space that you plan on getting improved. If there's excessive damage at a point, consult with professionals before deciding to paint over it.
Many kinds of home damage require professional treatment. It may even be irreparable and may end up costing you more than you can spend. Get started on your home renovation only after you have figured the entire plan.
Even if you believe you can pull off your vision of your home improvement project the best, it will benefit you to consult a professional restoration service to ensure that your home is structurally perfect. Contact a local restoration service, such as the 911 Restoration of Durham County, for any restoration service your home might need before you begin renovating it.