Water Damage Mold Removal in Durham
At some point, every property owner will have to deal with property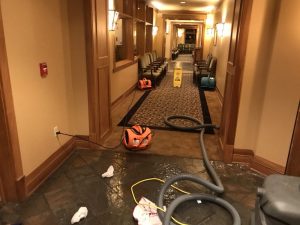 damage. This is practically a fact of life. Due to the variety of ways water can enter your house, water damage is the most common form of property disasters that a homeowner faces. It can be a leaky roof, a ruptured appliance hose, or even a pipe burst that creates flooding. Regardless of the source, there is no disputing the fact that water damage can be devastating and potentially costly if not handled promptly and correctly.
Besides the damage to your property and belongings, water is also responsible for additional damage that may not be immediately obvious to property owners. Because it only takes 24 hours to start growing, water damage can lead directly to a mold contamination. When this happens, the mold can eat away at the organic materials of your property as well as cause health issues for the property's inhabitants. Mold is an allergen and can cause breathing issues and headaches as a result even if the mold is not toxic. If you need water damage restoration service in Durham or the surrounding area, call 911 Restoration.
For the residents of Durham, we work hard to provide the best experience possible 24/7/365. Water damage can strike at any time, which is why we make ourselves so readily available. You can count on us to arrive within 45 minutes of your call ready to get to work. call 911 Restoration of Durham County at our number 919-314-0290.
If you have suffered water damage or need water damage repair in Durham call 911 Restoration promptly. We'll handle your water damage restoration and deliver a Fresh Start you can trust.
Handling Your Water Damage Restoration
When water damage strikes it can disrupt your regular life and create a
sense of being overwhelmed. At 911 Restoration, we understand that, which is why we walk you through the entire process from start to finish. Our very first step after confirming the source of the water damage is stopped is to perform a visual inspection. This allows us to put in perspective the scale of your water damage so we can identify the correct action plan for your water restoration.
Once the inspection is completed we communicated our findings to you and begin working once you have approved our course of action. We use the latest water extraction equipment and commercial dryers to get your property completely dried out. Once completed, we can start working on the needed repairs to get your property to good as new.
Keep in mind the need to be vigilant in winter. Cold temperatures can cause frozen pipes that may burst. Pipe bursts are the leading cause of flood cleanup services being needed. If you suffer from flooding, we are prepared to handle every aspect of your flood cleanup. so contact us today at 919-314-0290
Water damage restoration is not just a physical process. It is also a financial process, and in most cases is covered by insurance. Thanks to our years of experience and training, we are familiar with virtually every insurance provider and can walk you through the insurance process. In fact, we'll even file your insurance claim for you if you choose to have us do so. Our goal is to make the entire process as easy on you as possible.
If you need water damage restoration in Durham call us at 919-314-0290, 911 Restoration today. Our IICRC certified technicians are ready to deliver a Fresh Start you can count on.
Mold Removal i
n Durham
Mold is often referred to as the silent property killer and for good reason.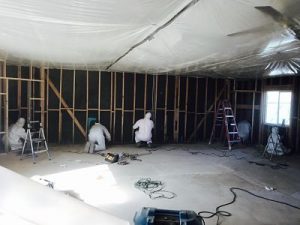 Save for extremely large cases of mold, it usually grows unnoticed until you have a full infestation on your hands. Mold is an organism that consumes every organic material it comes into contact with. This can be your sheetrock, carpet, wood, and other organic materials. However, mold can be easily identified by either a pungent stale odor or signs of decay in your organic materials.
Once you suspect mold, calling for professional mold removal services is the first step to take. Don't try to clean it yourself as mold spores can become airborne and spread further. That's why use only the best containment measures to keep the mold in one area before we proceed with the mold removal. Once properly contained, we use commercial grade cleaners and detergents to remove the mold. Call us at 919-314-0290 and see how we can help you.
Thorough mold removal requires investigating any possible water sources. We believe in preventing recurrence, which is why we also perform water extraction and drying services to make sure the mold doesn't have a chance to return. Thanks to being locally owned and operated we know exactly what kind of environment our residents in Durham face. That combined with our IICRC certification ensures we are perfectly situated to handle all aspects of any emergency restoration you might need. We have years of experience in water damage services in Durham.
If you need mold removal, flood damage, or water damage restoration in Durham, call 911 Restoration today. We'll be there within 45 minutes to work on your Fresh Start.