Sewage Cleanup in Durham County
911 Restoration Durham County understands how important it is to react quickly to calls regarding sewage spills, which is why we are available 24/7/365. If you need sewer backup in Durham County or the surrounding area, When we hear that you need us to remediate a category three water disaster, then we guarantee to arrive within 45 minutes of receiving your call. So contact 911 Restoration of Durham County today at 919-314-0290
Call our sewage backup cleanup Durham agents as soon as black water spills into your commercial or residential property and we will arrive quickly to show you that we can turn any mess into a fresh start! When you need sewage cleanup in Durham County, call us at 919-314-0290
Leave The Black Water Cleanup To The Professionals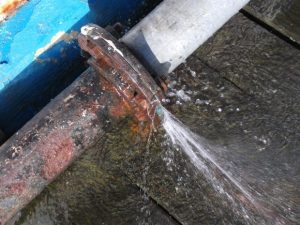 There are three different classifications of water- white, gray, and black. Gray water is mainly water that is drained from sinks, showers, and bathtubs. It may contain soap particles, cooking oil, hair, and skin cells.
Sewage contains dangerous pathogens that can cause disease in humans and animals. In order to protect yourself, it is important to stay away from any sewage that backs up into your property. Remember to keep pets and children away from the waste as well.
We have the skills and equipment needed to thoroughly remove every trace of sewage matter, along with deodorizing the property to get rid of the foul odor that a backup causes. When you hire us, you can be sure that you will receive fast and efficient services, no matter what time you need our help. We have years of experience in sewage backup in Durham County so, call us at 919-314-0290, 911 Restoration Durham County today.
Sewage Can Be Harmful To Your Health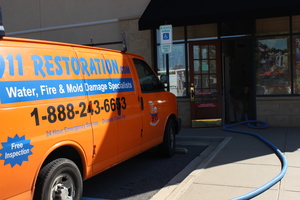 Both gray and black water can be harmful to your health, but like we briefly mentioned before, sewage poses an exceptional hazard to those who are exposed to it.
Waste from hospitals, commercial businesses, industrial buildings, humans, animals, and storms are all secreted into sewage.
Coliform infection is a common result of exposure to raw sewage and can cause you to experience intestinal and urinary tract issues, as well as pneumonia. If there is mold present in the sewage, then you may experience an allergic reaction or respiratory ailment. Call mold remediation at 919-314-0290 to get a free visual inspection. We provide sewer backup in a basement in Durham County.
Not only can sewage harm you, but it can be devastating to the environment that it has disrupted, such as your home, yard, or commercial property.
Our IICRC-certified technicians at 911 Restoration of Durham County are ready 24/7/365 to provide professional mold removal, cleaning, and disaster restoration services.
So, when you need your property cleaned up and sanitized, call our sewage backup cleanup Durham professionals for immediate decontamination services.
Serving the communities of Burlington, Chapel hill, Durham, Orange County and surrounding areas.