Water Damage and Mold Removal in Chapel Hill
Water damage can happen at any time from a variety of sources. Some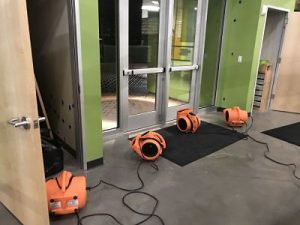 of the most common sources of water damage are burst pipes, ceiling leaks, and toilet overflows. Due to the variety of ways that water can damage a home or business, property owners need professional water damage restoration services. That's why at 911 Restoration we stand ready to handle your water restoration no matter how big or small the damage is. We won't rest until we can restore your property to a better than new state. We provide full-scale service for water damage restoration in Chapel Hill.
We know that the besides the water damage itself, additional damage is all too common thanks to the nature of mold. Mold thrives in damp environments and spread quickly. If left unchecked, the mold can eat away at your walls, carpet, furniture, and any other organic material. Plus, mold is an allergen, which means that even when non-toxic it can still affect a person's breathing and cause headaches.
Quick action is necessary to successfully combat water damage and mold contamination. That's why we make sure our IICRC certified water damage experts in Chapel Hill are available 24/7/365 to handle any emergency restoration needs that come up. In fact, we guarantee to arrive within 45 minutes of your call for all Chapel Hill residents. If you need water damage restoration service in Chapel Hill.
Whether you have water damage, need mold removal, or even need a flood cleanup we are able to assist you. Call 911 Restoration for the Fresh Start you can count on. Call us at 919-314-0290 and see how we can help you. We Have years of experience in water damage services in Chapel Hill.
Water Extraction Done Right
Water damage is frustrating enough for property owners. That frustration only grows when the water restoration is done incorrectly and without forethought. At 911 Restoration, we understand that which is why we offer a thorough and comprehensive water damage restoration for our Chapel Hill residents.
Far too often, the restoration process is hindered by improperly performed water extraction. That's why we start with a visual inspection before unpacking even one piece of our equipment. We aim to determine the full scope and scale of your water damage so that we devise an action plan that works.
Once we have a plan, we begin with our water extraction. We use only the latest equipment to complete this task and follow up with commercial dryers to ensure complete extraction. We follow up with our infrared technology to make sure there aren't any damp spots that were missed the first time around so we can prevent the possibility of mold.
Vigilance is needed in the winter due to the possibility of frozen pipes. If those pipes burst, then you're looking at instant flooding. Thanks to our local operation, we know exactly what to do to handle any pipe bursts that occur. Not only will we handle all aspects of your flood cleanup, but we'll also repair your burst pipe. Our technicians will respond as quickly as possible and will arrive ready to conduct comprehensive water damage repair in Chapel Hill, so contact us today at 919-314-0290
If you need water damage remediation or flood damage restoration in Chapel Hill call 911 Restoration. We guarantee you'll have a Fresh Start you can trust.
Mold Specialists Near Chapel Hill
When it comes to mold, prompt and responsive action is needed to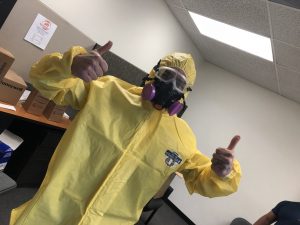 mitigate the damage. That's why you need mold specialists near you. That's why we employ a local operation backed by national resources to deliver the best in service and availability. Before unpacking one piece of equipment we start with a visual inspection to identify all sources of mold on the property. call 911 Restoration of Durham County at our number 919-314-0290.
Some of the signs we check for in our inspection include:
Crumbling drywall

Pungent stale odor

Rotted wood

Reported health issues
Mold is a tricky organism to get rid of thanks to the ability of mold spores being able to go airborne when agitated. That's why it is recommended you don't attempt to conduct any mold removal yourself. We use the latest containment measures and vapor barriers to prevent any chances of the mold spreading further.
After containing the mold, we'll use the best cleaners to decontaminate and remove the mold as part of our mold removal process. We take your health seriously, which is why if you deem it necessary we offer mold testing and sampling to determine toxicity levels of the mold we find. We use an independent third-party lab to conduct the mold testing.
Our technicians are IICRC certified and trained further afterward to handle all emergency restoration needs. We have you taken care of whether it's a pipe burst, mold removal, or fire damage restoration. We offer competitive pricing as well as assistance with your insurance claims so you don't have to stress about the financial impact of your property damage.
Call 911 Restoration today for assistance with your restoration needs. We'll deliver an unbeatable experience. That's our Fresh Start guarantee. call us 919-314-0290