Disaster Restoration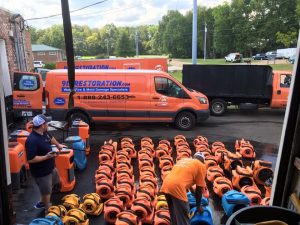 Disasters can occur within a blink of an eye, leaving you to deal with water damage, flooding, structural damage, and other issues in your home or business.
911 Restoration of Durham County understands the unpredictability of disasters, either natural or man-made, which is why we are available 24/7/365 at 919-314-0290 to take your calls and assist you.
It is important to act fast when it comes to water disasters, this way we can limit the damages and prevent mold from growing in the affected areas of the property.
Along with water disasters, we are also trained to restore properties that have been affected by sewage and fire, as well as provide mold removal services. So, when you need help from an all-encompassing restoration company, call our disaster restoration Durham experts today.
Staying Safe During Tornado Season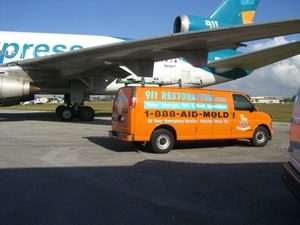 In North Carolina, Spring brings much more than April Showers. March through May known as tornado season and is the prime time for these violent storms to cause damage to any structure that gets in its way.
The state has quite a history with tornadoes, as weather service data shows that between 1950 and 2016 there have been roughly 1,270 tornado incidents.  Call us at 919-314-0290 and see how we can help you.
By now, property owners understand the importance of preparedness BEFORE the tornado season begins. Although there isn't much you can do to protect your property, there is a lot you can do to protect yourself and your family.
Having a basement that you can go to during a tornado is the best way to stay safe when a tornado hits. Make sure you have food, water, blankets, flashlights, and a battery-operated radio down there, since you may not know how long the storm will last or if another tornado will come through shortly after the first one.
If you do not have a basement, then the second safest place to go is in an inner hallway or room without any windows. Get under something sturdy that can protect you from any flying debris.
If you have any questions regarding tornado preparedness or need help finding other resources, call 911 Restoration Durham County and we will help point you in the right direction.
Tornado Disasters Can Severely Damage Your Home Or Business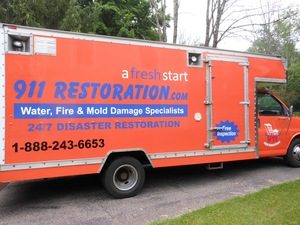 When tornadoes are formed, along with the strong winds, they areaccompanied by powerful thunderstorms that cause lightning, torrential rain, and flash flooding. All of these elements have the ability to quickly damage and even destroy homes, businesses, and personal property.
Disasters such as these require the assistance of professional repair workers in order to make a speedy recovery. We can offer you the remediation services you need to get your business back up and running again or to put you and your family back inside your home as soon as possible.
We use top-of-the-line equipment and implement years of training to restore your property quickly and efficiently.  The Metro Durham County office is open 24/7/365 at 919-314-0290
Storms of this magnitude can cause extensive water damage and structural issues in both residential and commercial properties, which is why it is so important for you to hire a 911 water restoration company that can provide you with comprehensive services.
Once we arrive we will begin the remediation process by working with IICRC-certified professionals to provide a free visual inspection and estimate.
So, if you want to experience, capable repair workers, call our disaster restoration Durham specialists and we will show you it is possible to obtain a fresh start after a tornado. call us at 919-314-0290.
Serving the communities of Burlington, Chapel hill, Durham, Orange County and surrounding areas.