Water Damage and Mold Removal in Orange County
Property owners deserve immediate help handling any water damage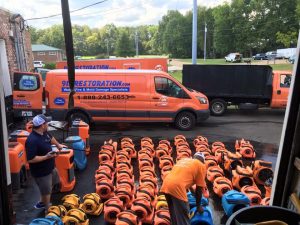 emergency. 911 Restoration of Durham County believes you shouldn't have to wait to get a response if you're dealing with ceiling leaks, basement flooding, burst pipes, or any other type of water damage. That's why our technicians are on call 24/7/365 to provide you with the emergency restoration services you need around the clock.
911 Restoration of Durham County is locally owned and operated, allowing us to respond to water damage calls in Cedar Grove within 45 minutes. We know that water damage only grows worse if it is left untreated for even short amounts of time. Let us get to work on water removal before your property can suffer additional damage.
Our IICRC certified technicians take all water damage emergencies seriously. We can help you handle:
        Broken or Burst Pipes

        Overflows from Bathtubs, Toilets, or Washing Machines

        Sewage Backups
We know that our hot summers can also lead to leaks from air conditioning units. Storms and floods are always a risk face by property owners. No matter what caused the water damage to your property, we can take care of the issue. Our technicians are licensed, bonded, and insured to take care of water remediation and any restoration your property needs after suffering from water damage.
Our team can even take care of disinfection your property after a flood or sewage backup. Your health and comfort are important and we will work to remove odors and any bacteria that could be left behind after a serious water damage event.
We Can Handle Mold Removal for Any Property Owner in Cedar Grove
Water damage can have very severe consequences. Prolonged exposure to a water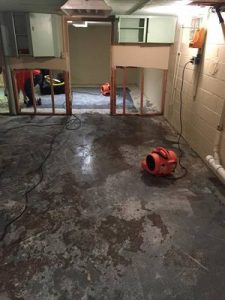 leak or a flood can ruin walls, floors, ceilings, and even your furniture. Excess amounts of water in your home or business can also lead to mold growth. Discovering mold on walls after water damage is a sign that you need mold removal assistance right away.
Mold removal can be easier for property owners if you catch the problem quickly. Mold grows quickly in damp places, which you might identify by a musty odor. We offer free visual inspections to property owners only, allowing us to locate potential mold growth as well as water damage.
Our technicians have professional experience with mold removal for both residential and commercial structures. We use top of the line equipment to carry out structural drying and dehumidifying, making it harder for mold to find a place to hide on your property. We understand that mold poses health risks to anyone who inhales it. Your wellbeing is our priority and we will not consider our job completed until total mold removal has been finished.
Get the peace of mind you need by calling our mold removal specialists anytime you suspect you might have a mold problem. We're here to help after you experience water damage tied to plumbing emergencies or natural disasters like hurricanes, tornadoes, and winter storms.
Our Team Provides Disaster Cleanup When You Need It
You should have confidence in the water damage specialists you call for help after a flood. 911 Restoration of Durham County offers property owners around Cedar Grove timely assistance no matter what emergency you're dealing with. For example, we can help you deal with:
        Basement Flooding

        Crawl Space Clean Up

        Sewage Backup Cleanup
Our team specializes in business and home water damage and mold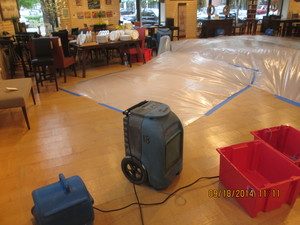 removal. Cleaning mold properly takes experience that we can provide and we're ready to handle any house flooding issue. Our team will take care of water and mold removal and then get to work restoring your property to excellent condition.
You can also count on 911 Restoration of Durham County if you experience fire damage. Our technicians will go to work right away to handle odor removal, smoke removal, and soot removal. We will remove your undamaged possessions and use sodablasting to clean up fire damage to your property.
We're here to take care of damage cleanup no matter what emergency you've faced. Our team has experience working with all homeowners insurance companies. Most of our work will likely be covered by your homeowner's insurance policy and we will focus on making sure all interactions with your insurance company go smoothly.
Here at 911 Restoration of Durham County we offer speedy, effective service to any property owner suffering from water damage. We will take care of your mold removal and disaster restoration needs throughout:
        Cedar Grove

        Chapel Hill

        Efland

        Hillsborough