Water Damage in Durham County
Weather Alert: If you are experiencing weather-related damage from the storm, call us today for emergency assistance!
911 Restoration of Durham County
When you own a home or business there may be times when you need the help of 911 Restoration Durham County to remediate water damage, a mold infestation, a sewage backup, fire damage, commercial water damage a natural disaster.
We understand how important it is to clean up any of these issues quickly, which is why we stay available 24/7/365 to take your call and schedule an appointment for a free visual property inspection and estimate.
If you are dealing with a water-based emergency, then we guarantee to get technicians to your property within 45 minutes of receiving your call. That way you can get the help you need the moment you need it. Call us at (919) 314-0290 and allow us to offer you a free visual inspection.
You deserve the best care in the industry, and through our water damage restoration Durham experts we are confident that we can provide you with that care and show you that your property damage is actually just an opportunity for a fresh start.
At 911 Restoration of Durham County, we offer a Fresh Start with our comprehensive selection of property damage restoration services, including but not limited to:
Whether you're a Durham County homeowner or business owner, 911 Restoration of Durham County is your Fresh Start! We'll communicate with you throughout the entire process, help answer questions related to insurance, and restore your property to its pre-damaged condition. One of our IICRC-certified teams is dispatched within 45 minutes of your call! Contact us today, and one of our friendly representatives will assist you in finding the nearest Durham County location.
Service area map
Water Damage Restoration
When dealing with water damage the most important thing is to act fast. The longer water sits on the surfaces of your property, the more damage it can do, such as causing rot and mold.
To mitigate the damaging effects of a flood or a leak, we always arrive within our 45-minute window, giving you the best chances of a full recovery. It is important to be aware of all the ways water can invade your property in order to prevent water damage from happening altogether. Call water damage restoration company chapel hill at (919) 314-0290 and see how we can help. Some of the main causes include:
Pipe bursts
Ruptured washing machine hoses
Water heater explosions
Leaky AC units
Thunderstorms
Tornadoes
Rainfall
Frozen Pipes and Pipe Burst
Winter has finally arrived which means disasters could be on thehorizon. Colder temperatures can potentially cause you to have frozen pipes. If your pipe lines are not well maintained, the moisture from the water in a frozen pipe will expand and create a pipe burst. After this occurs, you may experience devastating water damage via flooding. 
Flooding brings immediate damage to your residence or business and creates health problems such as mold infestation. In addition, the longer a flooded basement or a flooded house is left ignored, the more damage it causes to the property.
By inspecting your home or business on a regular basis you can catch these issues before they end up becoming a very costly problem. However, even the most well-maintained properties can still become affected by water damage, and if this happens to you, you can rely on 911 Restoration to remediate any problem you may be faced with.
So, call our water damage restoration Durham NC experts when a flood or leak invades your home and we will make sure to get your property fixed up as soon as possible.
Sherry M.
"I would give them 6 stars if I could. I had to deal with a flood in my business, an absolute nightmare for every business owner. 911 Restoration came right away, and they are so professional and efficient. Even after everything was done they followed up and made sure everything was back to normal. A+ customer service. Thank you!"
Sanitization Services & Disinfection Solutions
With how widespread the coronavirus pandemic has become, there are a couple of things to be aware of. Also, we all need to work together to combat this problem. Fortunately, we can all contribute by maintaining our personal hygiene while vaccines are in the works.
Property owners can take things further by ensuring they keep their buildings sanitized according to protocols. By doing this, they can keep the people who come and go remain as protected as possible. That's why Durham restoration is ready and willing to deliver sanitization services in addition to various disinfection solutions for both residential and commercial properties. Each of our technicians maintains full compliance with all current CDC and EPA protocols in an effort to deliver optimal results with our sanitization services. This is one problem that takes everyone to beat. In the meantime, you can count on us to provide you with peace of mind thanks to our sanitization services.
Mold Removal
Mold likes to grow in damp, dark, warm corners of homes and businesses, such as under sinks, inside attics, in the crawlspace, inside air ducts, behind walls, and underneath floorboards.
By inspecting these areas regularly you may be able to catch mold growth before it turns into a full-blown infestation.
Once an infestation has occurred, you may be able to feel the impact that mold may have on your health. It can cause allergic reactions that include sneezing, coughing, wheezing, itchy eyes, and headaches, depending on the type of mold you are inhaling.
Call our mold removal experts at (919) 314-0290 if you notice any sign that mold may be growing in your property and we will start the cleanup process with a free visual mold inspection.
Sewage Backup Cleanup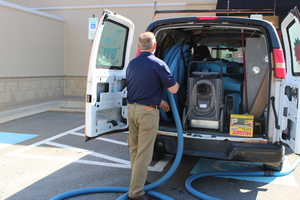 There are different classifications of water that range in their toxicity levels, with white water being the cleanest and black water is the most toxic.
If sewage overflows onto your property, it is important to stay away from the mess and immediately call professionals to come and clean up it up with the proper gear. This is the best way to ensure the safety of everyone involved in the remediation process.
When you need black water removed from your property, call our sewage backup cleanup professionals and we will completely decontaminate the area.
Fire Restoration
The amount of damage that a fire can do to your property can be overwhelming, especially when you see the speed at which the flames can engulf the entire structure.
We have many years of experience remediating fire and smoke damage from residential and commercial properties, so you can trust us to handle every aspect of the repair work.
Our fire damage restoration specialists will get your property cleaned up and repaired, hopefully leaving it looking better than it did even before the fire disaster. So, give us a call today at (919) 314-0290.
Disaster Restoration
Natural disasters such as tornadoes and tropical rainstorms have the ability to cause massive destruction to the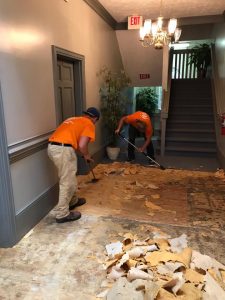 homes and businesses of Durham.
Flooding and structural damage can be monumental, especially when a tornado is at fault for the destruction. These powerful funnels of wind can rip through an area at 300 mph, damaging roofs, throwing around debris, and causing torrential rain.
We understand the impact that these storms can cause on a community and how important it is to implement repair services as soon as possible after the storm has passed.
However, sometimes it may be necessary to provide assistance while a storm is still raging outside, such as if a roof gets partially torn off and allows an exceptional amount of rainwater inside of the property.
We have the training and equipment needed to remediate any type of water disaster, so matter how severe the damage may be. So, call our flood cleanup Durham NC team when you need expert disaster services and we will work hard to make your property safe and sound.
We work with IICRC-certified experts who are trained to restore both residential and commercial properties. By providing comprehensive services we make sure to address every aspect of your property damage. For example, if you are dealing with a flooded basement, we will also mitigate any mold growth that we happen to come across as well.
Serving the communities of Burlington, Chapel hill, Durham, Orange County and surrounding areas.