Mold Removal in Durham County
As a property owner, you've worked hard to make your building a clean, successful environment. The last thing you want is a mold infestation. 
Mold lurks in dark, damp corners of crawl spaces and basements. Mold spores multiply fast, hiding under floors and inside walls. Once it spreads, it eats away wood, drywall, and other organic materials.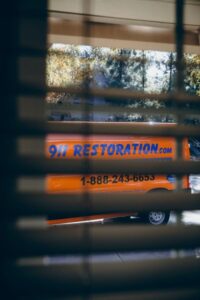 If your staff or family suddenly has allergies, headaches, or dizziness, you could have toxic mold on your property. You might not even know until it's too late. Once it gets inside, it can be impossible to find without the help of an expert.
When mold affects the well-being of your building and its inhabitants, our specialists at 911 Restoration are here to help. We handle mold removal for Durham, Chapel Hill, Burlington, Wake Forest, and the surrounding areas. Mold infestations can't wait, so we're open 24/7/365. As soon as you call, one of our team members will be at your property within 45 minutes. 
Whether you own commercial or residential property, one of our experts provides you with a free visual inspection. 
As a certified mold remediation company, our solutions guarantee full recovery for your home or business. We provide a full-scale mold removal service in Durham County. Along with mold inspection and removal, we provide all kinds of property restoration for Durham County. Since water often causes mold, we also take care of disaster restoration, water damage restoration in chapel hill, and more.
To get your building cleaner, healthier, and better smelling than ever, call us at 919-314-0290, or 911 Restoration today. We have years of experience which makes us the best mold remediation in Durham County.
Water Damage Leads to Mold Growth
After heavy rains, basement flooding and ceiling leaks cause water to enter your building uninvited. If a pipe bursts on your property or you experience a sewage backup, you need to act fast. When water's present, fungus can sprout in as little as two days.
Even after water cleanup, mold can linger, undetected. As it continues to grow, it creates a damp, unpleasant smell, and leads to property damage and health problems for you and your loved ones.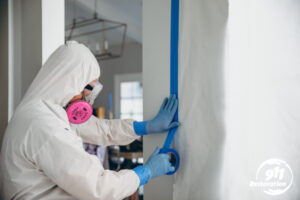 When extreme weather or a faulty appliance leaves you in need of mold remediation, 911 Restoration of Durham acts fast to find the problem at the source.  Once we identify the issue, we give you an estimate for repairs. After you approve, we get to work on your full-service mold cleanup. 
Our experienced crew contains water to prevent further damage, then extracts it. In addition to mold inspection, we offer to test with third-party laboratories. Our trained workers remove any materials damaged by mold and repair them. So contact water damage restoration Durham NC today at 919-314-0290
Poor air circulation encourages mold growth inside your property. To prevent re-infestation, our top-grade industrial fans and air purifiers dry and dehumidify your entire building. We also offer cleaning and disinfection, because dust and mold spores put your property at risk for further infection. Every member of our team is EPA certified, and we follow CDC protocols to ensure your protection. Cleanliness has never been more important, so we hold our technicians to the highest standards. For fast and effective mold removal, call 911 Restoration of Durham today.
Our Mold Experts Protect What Matters Most
When you find mold inside your property, it's tempting to deal with it yourself. However, attempting to clean mold without professional equipment or expertise can release spores, causing further spread and harm to yourself and others. At-home mold test kits are unreliable. The longer you have mold, the more time and money it costs to fix. 
Only a trained professional can give you an accurate assessment of your mold problem. Our crew members work fast to remove mold, and we work with your budget and schedule. One of our experts will even work directly with your insurance company and handle all the paperwork. 
As a national brand with over 30 years of experience, 911 Restoration brings you the best in property repairs. Our Durham branch is locally owned and operated by people just like you. We know how stressful property damage is. That's why our customers come first. We have full-scale service in the mold remediation business in Durham County.
We make sure you get the best price for the highest quality service, and we make the process as painless as possible because you've been through enough. When you need mold remediation, don't stress. Call 911 Restoration of Durham, and let one of our experts handle it.
Our IICRC-certified mold remediation specialists in Durham County are trained to find the mold and put your mind at ease. Additionally, every member of our team is licensed, bonded, and insured. Call mold removal Durham at our number 919-314-0290.
Serving the communities of Burlington, Chapel hill, Durham, Orange County and surrounding areas.