Tile vs. Wood vs. Carpet Floor – Which is Better Against Water Damage?
Water damage is inevitable in homes. Obviously, there are some areas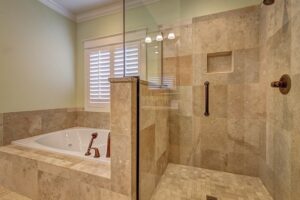 that are more prone to moisture, like the bathroom and kitchen. But homeowners need to realize that a pipe burst, roof leak or flooding can all lead to water in unexpected areas of the home.
When there is water inside homes, floors are most susceptible to water damage. While this can't always be avoided, you might be able to mitigate the extent of damage to the floor by choosing your flooring wisely. This guide will assess which flooring type, tile, wood or carpet, would prove to be better against water damage.
Tile Flooring
Tile flooring is versatile and is often used in homes with kids and pets, where water spills are common. Tiles are also commonly used in bathrooms and kitchens, despite the fact that they can get uncomfortably cold during winters.
Tile flooring can withstand moisture and is relatively safeguarded from water damage compared to most other types of flooring. However, while water may not damage the tile directly, it does damage the grout that holds tiles in place. But this would take a lot of water, perhaps like in flooding.
The saving grace with tiles is that you can simply use a mop to clean the water on it. It will most likely not sustain any marks unless water keeps sitting for a considerable time period. You can choose between the different types of tile floors, depending on their resistance to moisture. These are:
Impervious tiles that are highly waterproof
Vitreous tiles that absorb less than 3% water
Semi-vitreous tiles that absorb less than 7% of water
Non-vitreous tiles that are the least waterproof
Wood Flooring
Hardwood floors are the most aesthetically appealing floors, but they are rarely used in areas that can get wet, like bathrooms and laundry rooms. This is because water and wood just don't mix. When wood floor gets wet, you might start seeing water damage in the form of bulges, warping, soft spots, and cracks.
When wood floors are exposed to moisture, they have the tendency to sustain dark stains. These can be removed, but it's a difficult feat. To add to that, organic materials are most vulnerable to mold damage, a common result of water damage. When wooden floors get wet and moisture lingers, mold will quickly begin to form within 48 hours.
Therefore, it is safe to conclude that wooden floors do not hold well against water damage. This holds especially true for solid hardwood floors, engineered wood and bamboo. However, among wood floors, engineered wood would still be relatively better against water damage. It won't be able to handle long periods of standing water, though.
Carpet Flooring
Water damage can ruin carpets, depending on the extent of it and how long you allow the water to sit. For this reason, you will never find carpets in bathrooms or in kitchens. It will take ages for the carpet to dry if it retains moisture, and a wet carpet will cause a musty smell in the house. Carpets are not the best option of flooring against water damage.
Carpets will quickly absorb moisture, and when the water seeps in, it creates a breeding ground for mold. Mold spores will quickly begin to form underneath, and this would render the carpet useless. Only on some occasions can a carpet be saved from water damage.
Carpets will never respond well to water damage. In case of flooding or a pipe burst, you will need to get your carpet dried and cleaned before 48 to 72 hours with the help of a water damage restoration company. After that, mold will have ruined the carpet beyond damage, and it would be very hard to save it.
Which Flooring is Better Against Water Damage?
When we compare the different types of flooring like tile, wood and carpet, it is safe to say that tile flooring is the safest option against water damage. Tile floors are easy to clean and maintain, and even if water spills on a tile floor, you can still salvage it. You can simply sweep a tile floor and get rid of water, but that's more than we can say about wood and carpet.
Wood floors will crumble underwater, especially if you allow it to sit for too long. When wood absorbs water, it starts to expand and warp. The part which has been exposed to water will swell, creating an uneven surface.
Similarly, carpers are not the best against water damage. They will quickly fall prey to mold and it's very difficult to come back from that. So between wood and carpet, certain types of wood floors, like engineered wood, may be marginally better against water damage.
Here is the ranking of every floor type's ability to hold against water damage, from best to worst:
Tile Floors
Wood Floors
Carpet
Water Damage Restoration
No matter what floor type you have in your home, you will need help if your home suffered water damage. In such an event, you should get in touch with 911 Restoration of Durham County. They will take care of water and mold damage on your property.